You have the right to remain gorgeous!  Yes that's right lovely Benebabes, and what better way to celebrate our fabulous new product fine-one-one than a blogging event. With pink carpet rolled out and the Spitalfields staff on hand with any a beauty emergency we were ready for a fun packed and flawless evening of fun, laughter and of course #fineoneone… And that it was!
Our invited guests (all cautioned for crimes for looking too darn gorgeous of course,) were welcomed with sparkling pink fizz and a delicious selection of sandwiches, brownies and profiteroles.
Maggie & Annie were our honored guests; global beauty authorities to Benefit Cosmetics they brought the glamour and industry know-how to the event.
Their presentation was full of inspirational beauty tips & tricks and a little Benefit beauty history too. They spoke of the sheer determination of Jean and Jane (co-founders of Benefit Cosmetics) to provide every women with the power to make themselves look and feel gorgeous without having to be a make-up artist or beauty guru.
The sisters reinforced the importance of Benefit's origins; The brand hailed from San- Francisco a central hub in the 1970's for freedom of expression, free love & powerful women these all key things that provided the landscape for a pretty powerful brand DNA.
The sisters spoke with unquestionable passion for the brand and discussed how it had grown encompass the British sense of humor with tongue-in-cheek names and the ability to provide innovative product with a touch of flirt and risk. With this unique history in mind it was time to discuss the newest edition to the Benefit family #fineoneone.  A sheer brightening cheek & lip color which gives your look instant LIFT, SHAPE and POP. – Glide on the three shades: pink champagne, sheer watermelon and soft coral – For a sheer coral pink flush that builds from soft & natural to bright & cheery.
Annie was part of the products creation with the aim to provide a cream to powder formula blusher that was easy to use for a woman on the go. A unique and one of a kind product.
The product is so very versatile and looks lovely when layered, too! Wear it over your favourite lip & cheek tint or under your favourite Box o' Powder. As well as using the highlighter (pink champagne) under the eyebrow and on the cupids bow, you can use the sheer watermelon to add a pop of colour to the lip. This is an all in one product that no handbag can be without.
The night continued with a demonstration of the product and makeuppers for all of our lovely guests. The room filled with beauty gossip, tips and laughter!
As the night drew to a close there was only one thing left to do….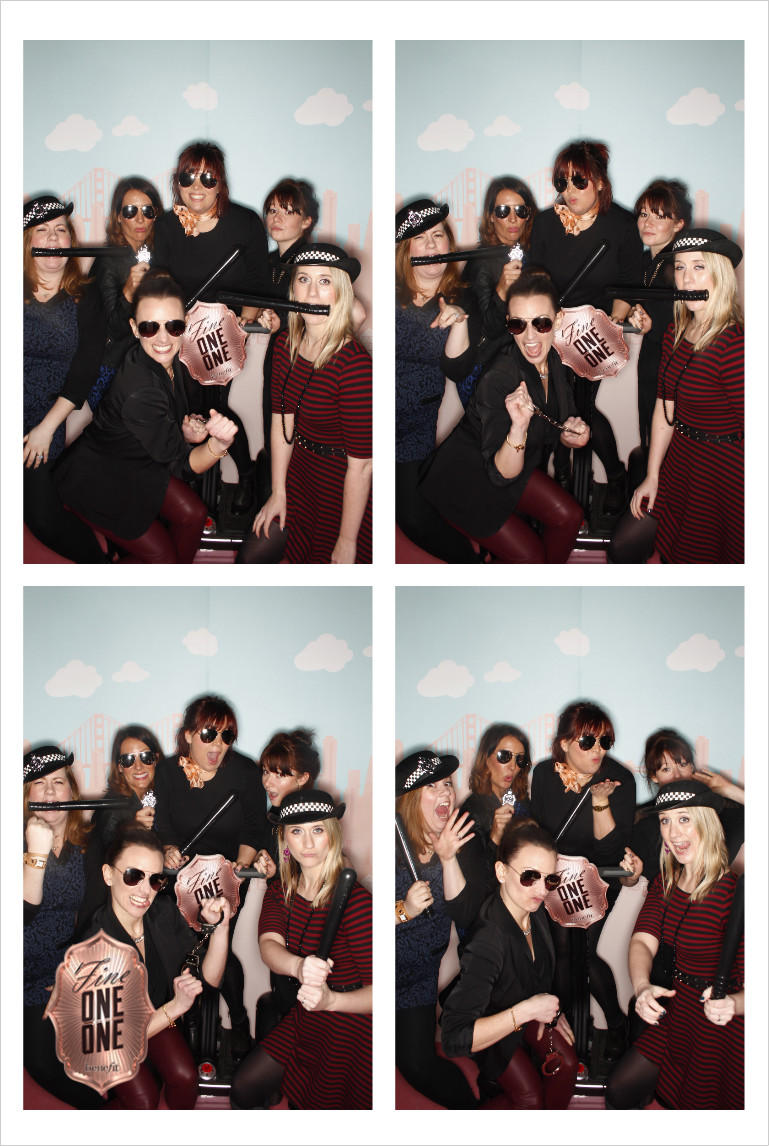 You have the right to remain gorgeous! #Fineoneone ….
Fine-one-one is available nationwide Saturday 26th January!
Find more information about the product at www.benefitcosmetics.co.uk
Until next time…
Glam squad!
xx